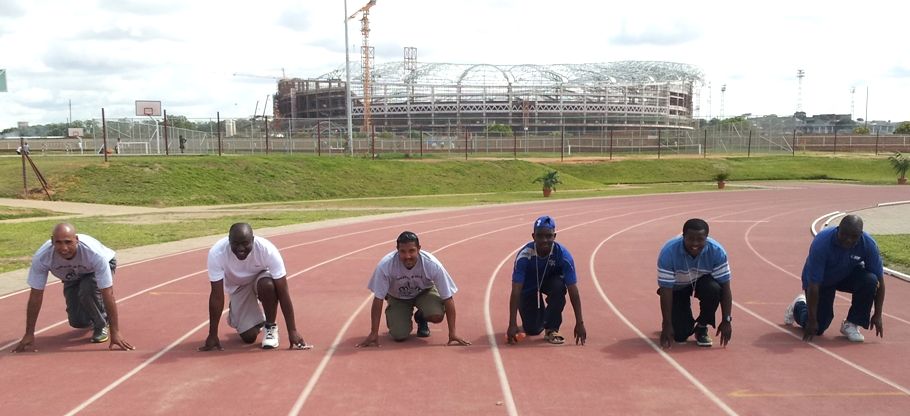 In 2000, Harold Cooper was invited by AIA Canada to partner with Campus Crusade for Christ Zambia (CCCZ) to assist in launching their Athletes in Action ministry. That initial invitation has grown into the establishment and development of sustainable sports ministries in South East Africa. There are now AIA ministries in Kenya, Malawi, Rwanda, South Africa, Uganda, Zambia and Zimbabwe. Literally millions of people have been exposed to the gospel through sports outreach and discipleship events. During these 12 years, AIA ministry trainers and sports teams from around the world have partnered in the establishment these AIA SEA international ministries.
Training Symposium - This past December, AIA national staff from Zambia, Malawi, and South Africa joined Harold in facilitating training for over 50 participants attending the intensive 5-day AIA Sports Ministry Training Symposium hosted in Lusaka, Zambia. Many were pastors and lay leaders learning for the first time how to maximize the platform of sport to reach their communities, country and their national neighbors for Christ. Additionally there was a 4-day SEA Regional Summit Meetings for the AIA staff from those countries.
Youth Olympic Deveopment Centre - Determined to stay "in the race" the AIA regional staff  line-up on the track at the first of its kind, Youth Olympic Development Centre (see photo above). The YODC was completed in 2011 as an investment and commitment by the IOC to enable developing countries the opportunity to grow Olympic athletes from within their country. In the back-drop is the under construction 30,000 person sports stadium. It is the second of its kind to be built in Zambia. The world believes that sport makes a difference in individuals, communities and nations.
Athletes in Action believes that JESUS is the ultimate change agent! These AIA staff are world changers who have been changed by the world Maker. A YODC banner declares: "Home of tomorrow's Olympic heroes." These courageous AIA African staff believe, by faith, that the God who created and sustains the world will raise up tomorrow's generation of godly heroes in their countries that will change their nations forever!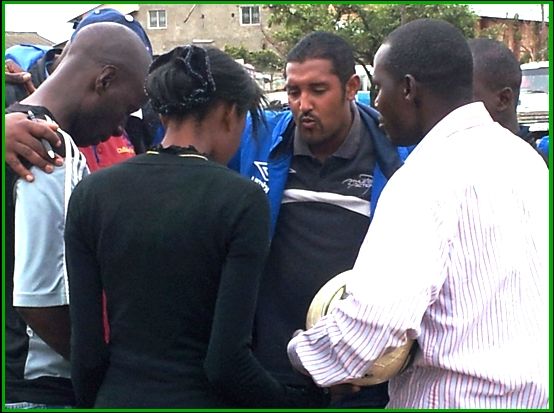 Come and Do - AIA ministry is a "Come and Do" strategy, not "Come and Listen." Wednesday of the Symposium was a "Do" day at the Campus Crusade office where the participants practiced the outreach activities that would happen on Thursday at the Chawama compound. Hundreds of children had a "play day" with our participants and then heard the gospel as presented by our trainees. For many, it was their first time to ever be a part of an outreach or to share the gospel with anyone. We know of over 115 that personally met and prayed with our trainees to receive Christ as their Saviour. The event was partnered with Campus Crusade staff members who attend the church located in Chawama. They will be providing the follow-up partnership!
There are too many wonderful stories to share in one article. To see Harold's complete report click here. We thank God for your interest, prayers and support!