Encore teams are made up of alumni from our Friends & Followers and 4WRD teams. Taking their vision and experience from year one, they travel throughout North America to share the VISION of what God is doing in the world. They invite believers of all ages to have a part in what God is doing, either with VTI or wherever else God may lead.
Important Announcement: In light of the Board's April 29 communication (see front page) we will not be accepting applications for our teams at this time. If you are looking for a mission team, we encourage you to consider other like-minded mission organizations. Check out our Ministry Partners page for organizations we're worked with in the past and also Short Term Missions which has a comprehensive listing of short-term mission opportunities. God bless you as you serve him.
Encore specializes in programs for youth and college age. Would you be interested in booking the Encore team? Call our office at (403) 777-2970 or 1-800-565-3818 toll-free.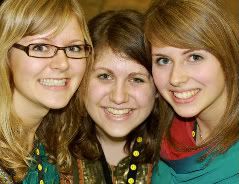 Are you a Friends & Followers, Arts Internship or GAP alumnus? Are you interested in lighting the passion for evangelism in North America? Talk to Mike, our Director of Mobilization, to find out where you may fit! Follow our current 2010-11 Encore team (shown right) on their blog.

When you're on an Encore team, you keep on learning and growing. You continue to use the skills you developed on your first team and then you build on them. You have the opportunity to be closely discipled by staff members and you develop super close friendships with your teammates. It's an amazing opportunity to keep on growing and keep on giving. Team members are asked to raise $850/month in support for their 10 months on team and will receive a personal honorarium of $100/month.
Share the vision - go the distance!


Encore Application Form:
| | |
| --- | --- |
| | Download an application here! |